Hello beautiful readers
,
It's been a
long, and warm
, summer in Seattle! I am happily adjusting to high (think 80-80 degrees F) heat days and warm evenings with colorful sunsets. Everyone up here is savoring every second of it because, in a couple months, rain and gray will take over the bright turquoise skies.
Cooking in the heat is dreadful. Baking is even worse. Who wants to turn on a hot oven and crank their stove when it is close to one hundred degrees? Forgo the biscuits, cookies, and cobblers, say HELLO to light and refreshing desserts.
Here are my top 3
:
1) Grilled fruit:
Summer time is prime time for BBQs and outdoor picnics. After the hamburger and hotdogs are happily consumed, throw on some fruit! Peaches, bananas, and pineapple are the three most popular fruit to be grilled. Also, I like to grill citrus (lemon, lime, and orange) and "squeeze" the juice over grilled or roasted seafood for a char-coaled taste.
Grilling fruit is quite simple, following these easy steps:
-Clean the grill with a grill brush. Make sure any excess meat trimmings are clean off. Set the temperature to medium-high heat.
-Oil the grill with either: a brush coated in a flavorless oil (like canola or sunflower) or a oil-spray.
-Cut the fruit to desired size and toss it on! Fruit takes 4-6 minutes each side. The excess sugar will caramelize the fruit fairly quickly. Flip with tongs.
-Eat. Serve with vanilla bean gelato, homemade whipped cream, cream biscuits, or dried fruit scones.
2) Pureed frozen fruit:
This is the perfect cooling treat for any vegan, young kids, or health addicts (*waving hands in the air*)! It has the same consistency of ice-cream but with a less caloric intake. My favorite fruits to puree are bananas, berries (all), and mango.
Purring fruit is easy-peasy:
-Cut fruit into small 1-inch cube sizes. Place on a plate.
-Freeze overnight, or a couple hours.
-Puree in a high speed blend or robot coupe on medium speed.
-If there the fruit will not 'blend," add a touch (think 1 tablespoon) almond milk, water, or juice. (Or your favorite beverage of choice)
-Put in bowl and eat! I like to top mine with goji berries, cacao nibs, and raw nuts.
3) Go out! Try a new sweet shop!
Seriously, treat yourself to homemade gelato, an ice cream sandwich, or a heaping cup of fro-yo. Having long summer nights is a perfect reason to stay up past your bedtime.
Hello Robin, in Capitol Hill, is my new sweet treat place!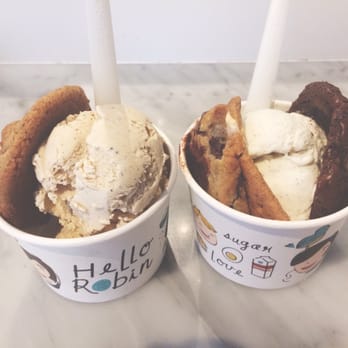 Hello Robin is famous for ice-cream cookie sandwiches.
Happy baking and stay cool!
Kimm